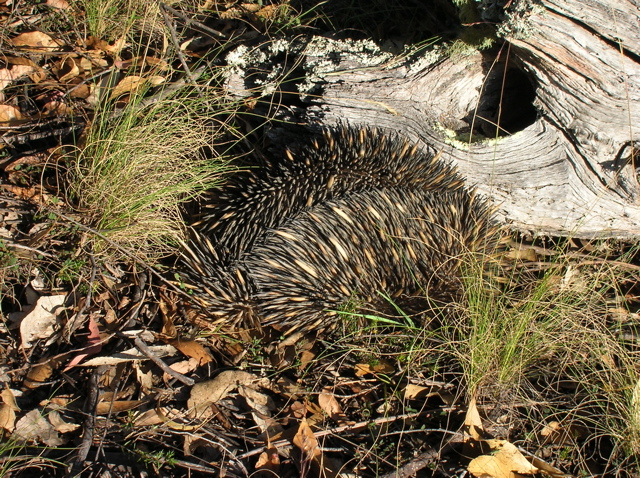 This is me, hiding from my manuscript, so it can't find me….
Yesterday wasn't the best writing day. I ended up scrapping most of what I'd written the previous day, and agonising over how to bring various threads and plot points together into the final act. I still haven't got all the answers, but I think I finally made some progress – in my head, anyway. I've still got to get it down on paper screen.
This morning, I'm going to take a bit of a break and go into town – I haven't left our place, so haven't seen anyone but Gordon, since Monday. The grocery shopping needs doing, so I volunteered – yes, the exciting life of a writer, when the grocery shopping becomes a break from routine! Although I'll probably have morning tea in my regular cafe, as well.
Oh, and the photo is of an echidna. We have a few on our place – Gordon has seen three at the same time – so we see them reasonably often. This one is hiding from me and the dogs. I did leave the dogs some distance away, so I could wait quietly nearby to get a better photo – but just as it decided it might be safe to move, my camera battery died.
And to finish this on a positive note, I have walked in the treadmill EVERY morning for 16 days in a row now. (So, I'd better go now and get on it and make it 17 days in a row…)