Merry Christmas to all my friends and readers!
I had to go to Sydney mid-December for medical check-ups, so I went on from there to Canberra, where we had an early family Christmas on the 19th. It was lovely to see my family and we had an enjoyable, low-key day with some great presents exchanged and a delicious meal. I flew home on the 21st, and today, Christmas Day, Gordon and I are having a quiet day, just the two of us – and the dogs!
Fruit mince tarts are something of a tradition in our family, and although I haven't done any Christmas baking until today, I made a batch of tarts for morning tea: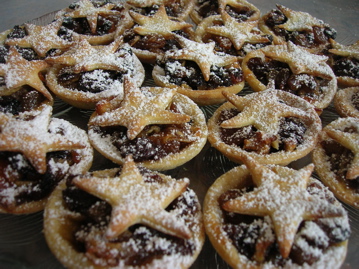 They tasted almost as good as my mother's!
When we were talking about Christmas lunch a few weeks ago, Gordon requested 'fish and chips and champagne.' So that's what we had 🙂 The fish was atlantic salmon, with lemon juice and marjoram; the chips were oven baked with a touch of cracked pepper; the salad had a honey and mustard dressing; and the champagne was Moet. A delicious meal, and not too heavy!
My paternal grandmother used to make her Christmas pudding on Melbourne Cup Day, in November. I had other distractions in November and December, so I'm not as organised, but I'm making a pudding this afternoon, which we will have this evening. It won't be quite as well aged as Nana's, but it should still be yummy, especially with some thick cream.
Wherever you are in the world, I hope your Christmas season is a wonderful one, and that the New Year brings you many joyful days. It's a great pleasure to interact with friends, family and readers through this blog, and I appreciate your enthusiasm, 'company' and good wishes. Here's a toast to you all!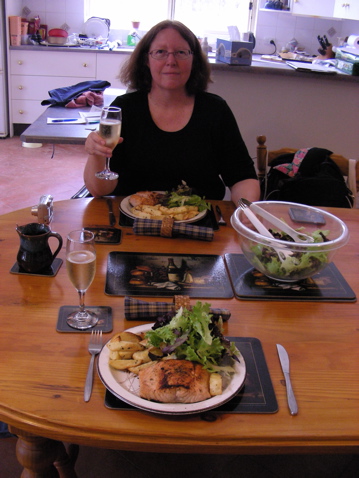 Oh, and don't forget that other great Christmas tradition – the afternoon nap!