I was wandering around the web yesterday and found that my German publisher, Blanvalet (a division of Random House) now has the details up on their website for the release of the German-language edition of As Darkness Falls – to be released in May, 2010, under the title Schwarze Dornen. The translator is Carsten Mayer.
The cover is quite striking, although very different from both the Australian and UK editions: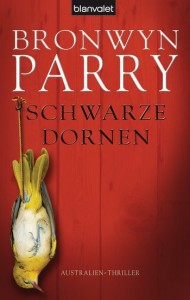 While the image isn't directly related to events in the book, I think it does effectively create a sense of menace in conflict with the natural world, which does reflect some of the themes of the book. Plus, it does catch the eye, and will make the book stand out on the shelves and tempt a reader to pick it up – and that is what a cover image is supposed to do, so therefore I like it!
The title translates (I'm pretty sure) to 'Black Thorns'. It's not unusual for a foreign-language edition to have a different title; translation is not as simple as just replacing words with their equivalent ones in the other language. Sometimes there isn't an equivalent word, and many factors are taken into account; the style of the writing, the sound and rhythm of words, their meanings and subtleties within the language, the culture and cultural references, and, of course, what will appeal to the book-buying public! Schwarze Dornen sounds strong, and is probably easily remembered, plus it evokes a sense of the atmosphere of the book, so I think it's a good title for those reasons!