The random number generator has just selected the following three numbers as winner and two runners-up in our Treasure Hunt Giveaway: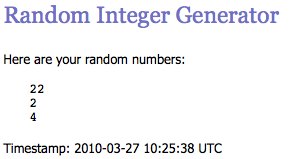 So, looking up the list of entrants, the 22nd entrant, and the winner of a signed book from each of the four authors involved is:
A man entering as a surprise for his wife, so I won't put the name here, but Mr Thoughtful, you'll be getting an email very soon! (And isn't it great that the random number generator genuinely and randomly picked you!)
And our first runner up is entrant number 2: Hannah McDonald. Hannah, you've won your choice of one book from the selection of four.
Our second runner-up – who wins their choice of book from the remaining three books, is entrant number 4: Fiona De Lai.
Hannah and Fiona, you'll be receiving an email soon.
Thank you to everyone for entering, and congratulations to Mr Thoughtful, Hannah and Fiona!