One of the things I love about living out in the bush is the wildlife we frequently see. We have 100 acres of mostly regrowth eucalypt forest, and we're in the midst of much, much larger grazing properties, with the gorge country not far away. Kangaroos, wallabies and wallaroos are around almost all the time; we frequently see echidnas and possums, and the regular birdlife includes choughs, magpies, fairy wrens, tiny firetails, rosellas, kookaburras, wedge-tailed eagles, and tawny frogmouths.
Most of the native wildlife is nocturnal, though, so we often wonder about what we don't see, or see only rarely – like koalas, dingoes and feather gliders…
Our dogs spend each night in the dog 'run' – a large fenced area, about 25 metres by 25 metres (yes, bigger than the average house block!) There are plenty of trees in the run, and it's surrounded by trees. The dogs often bark at night creatures, and every now and then a possum spends the night up one of 'their' trees, having wandered into the run during the evening when the dogs aren't there. (A few weeks back, we rescued a baby possum, huddled on top of a fence post; we took it to a tree outside the run, which it scampered up quickly!)
On Tuesday morning, when Gordon went to take the dogs for their morning walk, they were interested in the occupant of a tree on the edge of the run. This is one of Gordon's photos: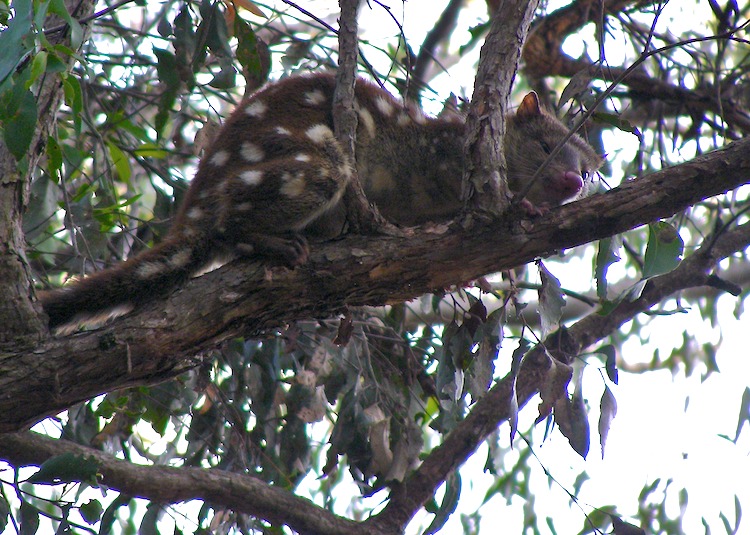 No, it's not a possum (Australian possums are cuter than North American ones). We've never seen one of these before, and had to check on the internet… it's a spotted quoll, a carnivorous marsupial, native to Australia and a threatened species. It scampered off to somewhere safer while Gordon and the dogs were out for their morning run – we don't know if it lives locally, or if its territory is further away – apparently they can roam about 6 kilometres in a night.
Maybe we should go out spotlighting at night some time, and see what else is living in the bush with us!