Spring has sprung, the grass has riz,
I wonder where the froggy is?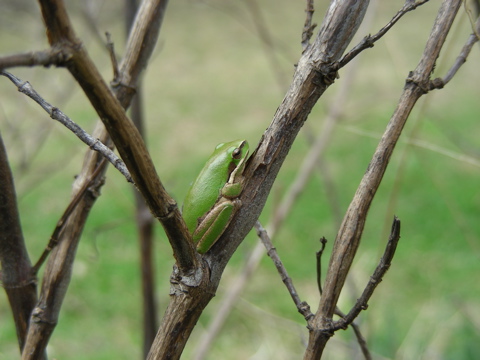 The frog is on the branch..
But there's a bird! Oh, good, it lost its chance…
(My apologies to Ogden Nash!)
Yes, Spring is here, and our patch of bush is busy with activity. Down at the dam in the evening the frogs and insects are loud and cheerful. Birds flutter around the house during the day, and I love watching them, especially the fairy wrens – although they move too fast for a decent picture! The wattles have been out for weeks, brightening up the scenery with their yellow buds. We have at least three types of wattles in the immediate vicinity – there's plenty of black wattles through the bush, a low-growing one in front of the house, and a graceful Guyra wattle over by the dog run. Nothing quite says 'Spring' in this part of the world as much as a flowering wattle against the blue sky:
Another sign of Spring is the reappearance of slithery things – I saw the first snake of the season a couple of days ago. But we didn't bother it, and it slithered away peacefully.
Things continue on, quietly busy. I'm currently doing a major clear out and declutter in our sunroom, hoping to finally transform it into a workable office/craft space for me. It's not finished yet, but progress has definitely been made!
I haven't heard a date yet for my surgery, so that's all still up in the air, but I do have something great to look forward to – my sister is coming to visit next week! We're planning to head west to Inverell and that district and spend a couple of days there, so I can research the area that is the broad inspiration for the fictional settings in my current book. I've been through that area numerous times before, but not with a writer's eye and a story in mind. It will be fun to go with Andrea, and to have someone to bounce ideas off as we travel. Other than getting together in Sydney when I've had surgeries, we haven't had a relaxed holday, just the two of us, for a lot of years, so it will be a fun few days, I'm sure.