The Time-Warp Fairy has obviously been around, because it really doesn't seem like a month since I last posted. Although I did warn you, gentle readers, that I might be somewhat distracted!
A couple of pieces of news to share – first up, the other day I received my two copies of the Large Print edition of Dark Country. I think that libraries are the biggest buyers of large-print books, so for the librarians out there, the publisher of the large print edition is ISIS Publishing of Oxford, and a Google search suggests that they can be ordered from Ulverscroft in the UK.
The edition is a hard-cover, with a simple but stunning cover: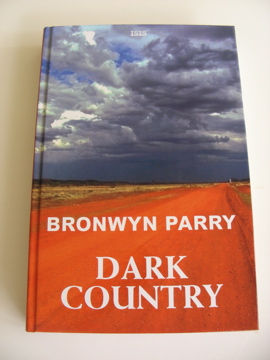 And in other format news, As Darkness Falls should be available as an e-book in the Australian Apple iBookstore any day now, with Dark Country coming soon. ADF has been uploaded to Apple, but they've apparently got a backlog getting titles on the virtual shelves. I'm not sure, though, whether it will only be available for Australian/NZ readers, or more widely. UK readers can already buy the e-book of the UK version of both books in major booksellers in the UK, and German readers can buy the German e-book from all major booksellers, but as far as I'm aware so far it's not available (legally) elsewhere. It's a situation that I hope will change shortly, but e-books and territorial rights are a very complex issue – which I won't get into here just now, as it's late and time for bed! But please be assured that I do discuss these issues with my publishers, and I do keep them up to date with readers' views on the difficulties and frustrations!
On a totally different topic, I spent a little time this evening going through photos of the trip my sister and I did last month out to the area that the new book is set in – so I'll have some more posts with photos in the next day or two!
Here's a teaser – taken at the Cranky Rock Reserve near Warialda: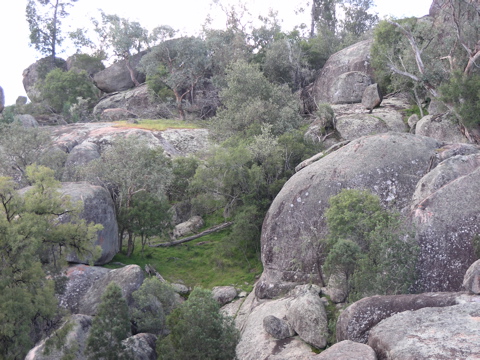 (Australians of a Certain Age will appreciate that the atmosphere of this place was such that when Andrea walked ahead and disappeared behind a large boulder, once could almost hear panpipes playing, and there was a strong temptation to call out 'Miranda! Come back Miranda!' )