After almost exactly 2 weeks in hospital, I was discharged yesterday afternoon. We'll be staying in Sydney for a few more days – on Wednesday morning, I'll get the stitches in the side of my face out, and then we'll drive back to Armidale that day in a hire car.
I've been back 'online' reading emails etc for a few days, but as I get tired very quickly I haven't done much in the way of writing replies or blog posts or anything much! However, I do sincerely want to thank all my many friends, family, and well-wishers for all your support and encouragement during these past few weeks. Your cheerful emails have made me smile many times 🙂
I also want to acknowledge Gordon's great care of me post-surgery and his dedication in making sure news was conveyed to all those wanting to know how I was doing. We recently celebrated 17 years together, and I certainly picked a great guy!
After I was discharged yesterday afternoon (Christmas Eve), we came back to the small apartment we're renting for another few days, where I had a nap for an hour or so. Then we strolled (slowly!) down King Street Newtown, to an Italian restaurant we've been to a couple of times before. I had a delicious seafood pizza, and G had a mushroom one. The food – and the venue! – were definitely huge improvements on hospital: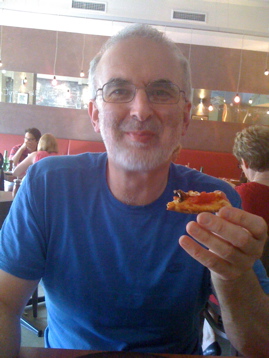 Although I'm doing very well, I do tire easily, so for Christmas today we had a very quiet day. G had ordered some sour-dough bread and rolls from a bakery, which he picked up this morning. He'd bought camembert cheese, cold meats, and apple juice yesterday. The area we're staying in is one of the older parts of Sydney, and a ten-minute stroll away is the old Camperdown Cemetery, one of the oldest since European settlement. So, we packed up a little picnic, and walked down there, to eat our lunch on the grass under the shade of a huge old Moreton Bay Fig Tree. I realise that it might seem strange to have Christmas lunch in a cemetery, but it's a lovely, park-like space, with birds twittering around and we wanted somewhere peaceful and quiet within easy limping distance!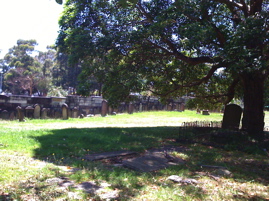 We've just now finished off our feasting for the day with some delicious, rich, chocolate gourmet icecream – yumm!
Seasons greetings to all my readers. Thank you for your 'company' during my surgery. And huge thanks to the many wonderful staff at Royal Prince Alfred Hospital for their excellent care – of both body and spirit – during all my times there over the past 2.5 years. Dr Rodney Allan and his neuro team – Alex, Sebastian, Tom & Leisha; Mary & Jane – Nora and all the nursing staff in Ward 8 West 2 (including Jess, Lauren, Emer, Sue, Paul, Ridell, Neil, Jon and the whole team); Di and the wonderful Neuro ICU staff; Physio Chloe and OT Amy.