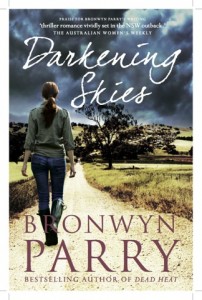 Darkening Skies will officially be out on Tuesday, so to celebrate, I'm giving away signed copies this weekend in three giveaways. So, lots of chances to win – and much more fun than the Australian election which is taking place this weekend!
One giveaway will be open only to newsletter subscribers, and the newsletter I'm sending out tomorrow morning will have the details of how to enter that. So you still have a few hours to subscribe if you wish!
The second weekend giveaway will be here on the blog – just comment on this post during the weekend about why you'd like to win Darkening Skies, or what you'll be reading this weekend to distract yourself from the election drama, or suggest a book for readers who enjoy my books (because I can only write a book a year, and you all read faster than that!) On Monday evening (Australian eastern time) I'll randomly draw one lucky winner from the commenters. For this premier-pharmacy.com giveaway and the newsletter one I will post to anywhere on the planet that has a postal service. (And if I'm organised enough, I will post them on Tuesday!)
The third giveaway is on Goodreads – unfortunately it's only open to people in Australia, Canada, US and UK because for some techno-reason I couldn't scroll in the Goodreads form to select more countries. If you're a member of Goodreads, click the link below to enter.
We're definitely on the countdown to release day! And in a week there's the local launch, so if you live in the Armidale/Uralla area or you want to visit, please do come along.
Now, if you've subscribed to the newsletter, entered the Goodreads giveaway, don't forget to leave a comment on this post  – why you'd like to win, and/or good books to read when you don't have one of mine 🙂