The copy edits are done, the cover is (almost) finished, and in mid-January – just in time for summer reading in Australia – Storm Clouds will be in the bookshops!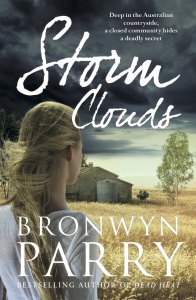 Isn't it a gorgeous cover?
Here's the blurb:
He can make you believe in the ultimate lie… 
National Parks ranger Erin Taylor loves her job, is falling for her colleague, Simon, and is finally leaving her past behind . . .
Until a woman is murdered. But the victim is not just any woman – she's Simon's wife, Hayley. The wife he's never mentioned. The wife he's not seen in fourteen years. On the edge of the national park the alternative lifestyle 'Community of Bliss' denies knowledge of Hayley, but Simon and Erin suspect otherwise. Erin will have to draw on all her old skills – deception, lying, cheating – to gain the trust of its members and discover their secrets.
As Simon uncovers shocking details about the reclusive group, Erin is drawn further into their midst and finds a web of lies, decades old – and comes face-to-face with the charismatic, manipulative, dangerous leader who will let nothing and no-one stand in his way. On the wrong side of a river in flood that has become a lethal torrent, Erin and Simon must race to expose the truth and prevent a tragedy . . .
Keen readers may recognise Simon and Erin, who were secondary characters in Dead Heat – yes, Storm Clouds is loosely linked, but the crimes are quite separate and the books stand alone. Those of you anxiously awaiting another Dungirri book will probably be pleased to know that, although this one isn't set in Dungirri, Detective Sergeant Steve Fraser is called to Goodabri for this investigation – and refused to stay in the background!
Storm Clouds is now available for pre-order at most online booksellers, or pop in to your local book shop (if you have one!) and let them know you'd like to see it in January.

Add Storm Clouds to your Goodreads bookshelf: