I'm delighted that the first of two novellas that I'm writing for my creative practice PhD research is now finished – and published!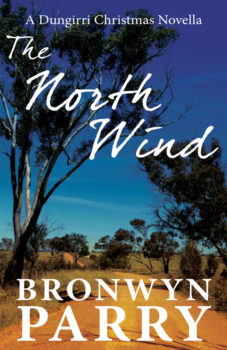 The North Wind is a 39,000 word novella set in Dungirri, the location for three of my books, around Christmas. It does stand alone as a story, but it will particularly appeal to readers who have read my other Dungirri books and love the characters of the town.
In terms of the Dungirri books' timeline, the story opens a few days after the end of Darkening Skies – but you don't have to have read that book to enjoy The North Wind!
The North Wind is available worldwide as an ebook through all the major ebook sellers – see the links below. I will also have some print books for sale – however unfortunately I'm unlikely to receive them in time for posting out before Christmas. I should have more details about timing and cost for the print books within a few days – if you'd like one, please comment on this post and I'll make sure you're notified when they're available. For overseas readers, a print version should be available through amazon within a few days.
Here's the blurb:
It's Christmas in the outback town of Dungirri, and Angie Butler has returned to her old home, perhaps for the last time. Her life is elsewhere, and the ties that have for decades bound her family to the struggling town and its old hotel may soon be broken.

But the arrival of two strangers in town – Owen Caldwell and his grandfather – along with the hot, dry north wind herald a time of challenge and unexpected change.

Owen has no idea why his grandfather has quietly insisted on this Christmas visit to Dungirri, a town he's never been to. But the old doctor has a final quest, and as long-held secrets come to light and Owen and Angie use their skills to assist those in need, they both must decide where they belong, and where their future is.
Buy links:
Amazon.com | amazon.com.au | iBooks | Kobo |