Sunset Shadows is the third book in the loosely-linked Goodabri series, but it does stand alone.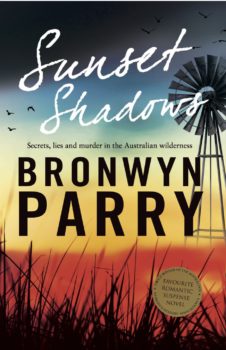 For police officers Steve Fraser and Tess Ballard, a split-second decision saves the lives of fifty members of a cult ­– but it also puts their careers on the line.
Tess's upbringing left her unprepared for the world, however she's left her past behind her and forged a life for herself through dedication and determination. Her work is everything to her, and she's committed to protecting the vulnerable.
With his life abruptly turned upside down, his own career has just become Steve's least concern. As senior officer he won't see Tess's career ruined if he can help it, even if it's his last act as a police detective.
But in the aftermath of the cult members' rescue nothing is simple. The alleviation of one threat has left a power vacuum and as the new leader takes over, Tess's past comes back to haunt her – and Steve – with tragic consequences. As the violence escalates out of control, Tess becomes the focus of the mob's anger, but she's not the only one in danger. Isolated in rugged country, they're both faced with the impossible choice: who do you protect when there is more than one innocent life at risk?