I made it to San Francisco, and the wonderful, but hectic experience of the Romance Writers of America National Conference. Two thousand romance writers and industry professionals in one large hotel makes for a busy, but enjoyable few days.
I arrived on Sunday, having traveled on the same plane as about nine other Australian writers, some of whom can be seen here, waiting for the shuttle bus: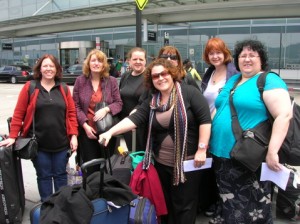 On Monday, Valerie Parv and I met up with some American friends, and went to Pier 39 for a late (delicious!) lunch and a wander around the shops. A lovely blue glass pendant and matching earrings insisted on coming home with me, but otherwise I managed to resist temptation!
On Tuesday, with the same friends, and joined by Mel Scott from Australia, we took the ferry to Sausalito in the afternoon – a gorgeous sunny day, although windy, making the bay crossing a little choppy – just the way I like it! We didn't have heaps of time in Sausalito between ferries, but it was an enjoyable interlude, admiring some of the crafts in the galleries, and picking up a few tourist souvenirs.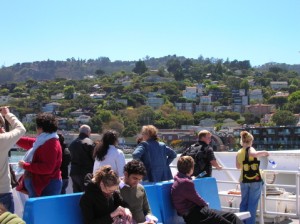 On the way back, the fog starting rolling in again, across the Golden Gate Bridge: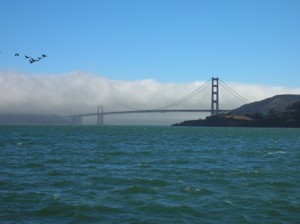 Yesterday, the conference got underway, and the hotel is full of romance writers. I caught up with some of last year's fellow Golden Heart finalists at the Golden Network retreat, and later attended the incredibly huge book signing in aid of literacy programs – 400+ authors, a few thousand readers, one large ballroom, and a loud continual buzz of conversation. I was only going to buy two books – but somehow five came into the check-out line with me.
This afternoon, Valerie and I will be giving our workshop. I'm having a little quiet time in our room this morning instead of going to the conference opening but will head downstairs shortly. This evening, I have two functions to go to, which I'm looking forward to, and tomorrow I'll be moderating a workshop and attending others, instead of giving one!