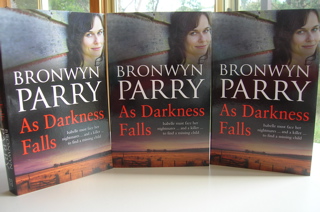 There's plenty to celebrate:
it's autumn here, a beautiful season with just a hint of cool in the air;
Mother's Day is coming up, and I have a wonderful mother (hi, Mum!);
Dark Country is written, currently in the copy-edit stage, and the cover is beautiful;
As Darkness Falls is selling steadily, and I have my first royalty statement with a figure at the bottom in the positive territory;
I've received some wonderful positive feedback, reviews and emails from readers about the book – thank you!;
I've started on book 3;
I'll probably have covers for the UK and German editions of ADF soon;
and As Darkness Falls will be out in the B-format edition and on Australian shop shelves next week!
To celebrate all of that, I'm giving away three As Darkness Falls prize packs – each containing a signed copy of As Darkness Falls; three 5″x7″ Australian wildflower photos taken by DH and I, suitable for framing (frame not included); a handwoven bookmark; and some chocolate. (Because there should always be chocolate, right?)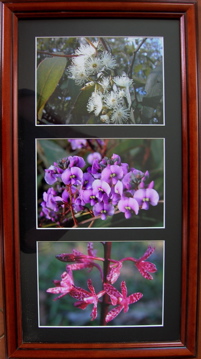 A perfect gift for yourself, or – if you already have ADF – for a special mother or friend.
The contest will run until April 19th, and I'll draw the winners on April 20th. Prizes will be posted during that week, so should arrive in good time for Mother's Day.
To enter, simply fill in the form below, before 19th April. All entries will go into the prize draw. As long as you live on this planet, with an address a postal service delivers to, you're eligible to enter. But please enter only once!
As an extra 'thank you' to my supportive readers,  if you've reviewed ADF, or mentioned it on a blog, or added it to your LibraryThing/Shelfari/GoodReads library or wishlist, or otherwise supported the book in a public forum, let me know on the entry form, and I'll give you an extra entry in the prize draw 🙂
As usual, because I respect your privacy, I won't sell, give away or otherwise do anything nasty with your email address.
Note: This contest is now closed.