Over the next few months I'm planning to invite some fellow Australian authors for guest posts here to introduce readers to some other authors, and have a little variety from my mutterings! I'm delighted to welcome Fleur McDonald as my first guest. Fleur's first novel, Red Dust was published earlier this year. Set in the north of South Australia – an area I've travelled in several times and loved! – Red Dust has a crime, and a touch of romance, so even though it's not being marketed as romantic suspense, I've decided to co-opt it into the small (but growing!) stable of Australian romantic suspense novels.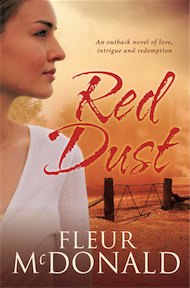 I've 'interviewed' Fleur via email, and she's been gracious to answer my questions and to tell us about her work and her writing. I hope you enjoy 'meeting' Fleur – and she'll be dropping by to respond to any comments.
Your first published book, Red Dust, is set in an area of northern South Australia that you know well. What inspired you to write it?
I grew up in a small town called Orroroo and my grandparents had a station to the north. I spent so much time up there as a child, I knew the scenery, atmosphere and area like the back of my hand. I thought it was just obvious that I should write about that district, because it was what I knew. It's such a stunning region, even though there is a harshness to it – the country is so beautiful and the area is completely entrenched in me.
Red Dust came into being because I was encouraged, by my mentor, to write it. Having never written anything but short stories before, I needed something I knew well – the mid north – and I love crime books, which were my other inspiration. I somehow wanted to weave a crime into a farming book.
Your second novel, Blue Skies, is due for publication in April next year. Would you tell us a little about it?
Blue Skies is set in Esperance, where I live now. It is a story of a woman – Amanda Greenfield – thrown into a dreadful situation – her mother dies, her father is distant, the farm is in terrible money trouble. Running parallel to the modern day story, is a history part, set in the 1930's, when Esperance farmers were clearing their land and settling the area.
Do you know what's going to happen when you start writing a manuscript? Do you have it mapped out beforehand, or does it evolve as you write it?
I try to have four or five main points through out the story that I have to get to, some how. I don't have any idea how I'm going to get there, until I sit in front of the computer and the characters take me. That's the fun thing in it all – the characters have a life of their own. Although, I find that once I've written a chapter, I think about it heaps – often when I'm in bed – and I end up re-writing the whole thing, in my head! (Hopefully for the better!) I need to write methodically (first chapter to last) otherwise I get lost.
I tend to write very spasmodically. I have the computer on all day, but I rarely sit for long. I type, go and clean or do something else, come back and write a bit more – I caught myself writing a whole chapter while I was standing up, the other day! I had an idea and just wanted to get a few things down and suddenly the whole thing flowed out, while I was leaning over the office chair and typing!
My favourite time for writing is early in the morning, when there aren't any distractions and it's quiet.
What do you most enjoy about writing? What do you find the most challenging?
I love the characters. They are my friends – people who I'd like to have a drink with or a chat too. I love the fact that it's an escapism – if the dust is blowing outside and there isn't enough water for the stock, I can forget about it (leave it to Anthony to deal with!) and not think about it, while I write.
I think the most challenging part is to be able to realise that you're not the only one struggling with writing! Writers block hits everyone, even the best – your favourite writers – get it! Knowing that you're not the only one, is so important and I find it's imperative to have a network of people around you, that can help you out of it. I have a very good friend who kicks my bum and points me to the right track, when I suddenly think I'm hopeless, the world's worst writer and I just can't! Which is almost once a week!
The other challenge I have is, finding time, space to think and plan and making sure I don't waste time on the internet!
You and your husband own a large property in Western Australia, and have a couple of children. How do you make time to write, in such a busy life?
Well this is a challenge! I have young kids – eight and nine – and Hayden, my eight year old has a speech and learning disability. I never wrote a word, until he went to kindy. I was too busy helping him with speech therapy and so forth. Once he was at kindy, my life opened up a bit and I started to fiddle with the things I loved, like writing, reading and getting back outside and helping on the farm. Red Dust was written in time, snatched, between outside and the kids.
Until recently, it was just Anthony and I, on the farm, so I was the general dogs body. Two years ago we hired a workman, so I'm not needed as much, which makes time during the day easier to find.
Anthony leaves to go to work by 5am, so I get up with him and write for a couple of hours before the kids get up for school, then, if I don't have to do anything outside, I make sure the house is clean, washing is up-to-date (which I'm sure it never is and it breeds in my laundry!) and then I sit at the computer, but like I've said, I'm never there long.
If I have to work outside, I take a pen and notebook with me and write long hand if I'm shifting sheep. If I'm working in the sheep yards or with the cattle, nothing gets done! It's as simple as that.
I can write while the kids are home, just so long as Rochelle (my nine year old) doesn't have ABBA blaring from her CD player! Although, I do try not to, as both the kids, sometimes think I love my computer too much!
What two tips would you give aspiring writers?
Never, ever give up. I was picked up from the slush pile and signed on the first three chapters of my book. Before it was published, the international rights had been sold to Germany (for both Red Dust and Blue Skies – Blue Skies wasn't even written!). I've sold 20,000 copies of Red Dust since it hit the shelves. Dreams DO happen!
Be aware you will get rejections – I could plaster a wall with the letters I've had and I've kept every single letter. Sometimes it's a good idea to re-read them! But you can't take these letters personally, if you do, you'll quit before you start. Look at them, shrug your shoulders and get back to the business of writing. Keep writing. Don't ever stop – you wouldn't be able to anyway, if it's your true passion!
What's coming next for Fleur McDonald, beyond Blue Skies?
Well, I have just started to work on my third book, Purple Roads. When Blue Skies comes out, I will have had two books out in two years and I don't think I can keep that pace up! I'll keep working on Purple Roads, but don't expect to see it on the shelves until 2012, with a fourth one in 2013!
Thanks, Fleur, for visiting today! I'm looking forward to Blue Skies next April!