Kat over at BookThingo recently posted a thoughtful review of Dark Country, and she's giving away a signed copy of the book in what I think is a lovely contest:
For a chance to win a SIGNED copy of Dark Country, in 25 words or less tell us who you consider the most romantic Aussie couple and why. It can be a book, film, real-life story, or you can make up your ultimate Aussie romance.
You need to enter over at BookThing, in the comments section of the review post, by midnight Friday Sydney time. I'm enjoying reading the entries, so do go and join in the discussion.
I'd find it hard to enter, though – there are too many Aussie romantic couples I love! From the classics – Meg and Alan from Ethel Turner's Seven Little Australians, and other books; Norah and Wally from Mary Grant Bruce's Billabong books; and of course there's also CJ Dennis' The Sentimental Bloke and his Doreen – a little different from the previous two, being written in colloquial language, for adults, by a male writer, about a rough, working-class larrikin from Melbourne's back streets, but wonderful and touching as The Bloke falls head over heels for Doreen.
Then there's also D'Arcy Niland's Call Me When the Cross Turns Over – the Cross in the title referring to the Southern Cross constellation – with it's story of Barbie Cazabon and Jack 'Fascinatin' Kippilaw. These are two great characters, neither of them perfect, but definitely a great match, despite the trials they endure before they finally work it all out. The book is out of print now, but if you like Australian literature from the 1950s, it's worth checking second-hand book shops for it.
As for real-life romantic couples, since I was a small child, I was always inspired by my aunt and uncle, Eileen and Arthur: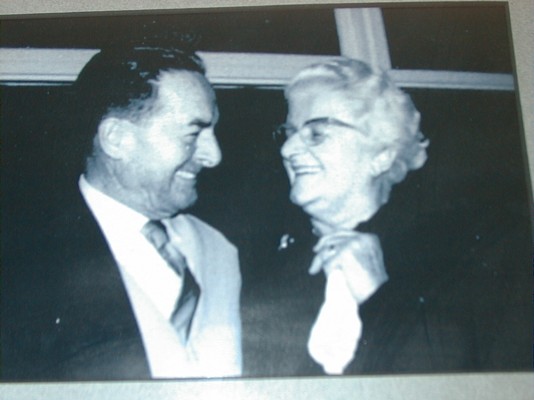 This is a photo through glass of a scan of a photo – but aren't those smiles just beautiful? In my memory, they were like that all the time – aware of each other, devoted to each other, and showing that love constantly in many ways. Much older than my parents, they had grandchildren around my age, and it was wonderful a few months ago when one of the grandchildren and his wife came and stayed with us – and they smiled at each other in just the same way 🙂