Today's quick post has great news and not so great news.
The great news is that Dark Country is a finalist in the 2009 Australian Romance Readers Awards , in the Favourite Romantic Suspense category. The ARRA web page has the full list of finalists in all the categories.
And, to top it off, I am a finalist for the Favourite Australian Romance Author of 2009 award. There's some pretty wonderful competition though – and huge congrats to the other finalists!
* Angela Verdenius
* Anna Campbell
* Anne Gracie
* Christine Wells
* Denise Rossetti
* Keri Arthur
* Paula Roe
* Stephanie Laurens
* Tracey O'hara
ARRA members are currently voting to determine the winner – if you're an ARRA member, don't forget to check your email for the link to cast your vote. The winners will be announced at a gala dinner in Sydney in May. Many thanks to those who nominated me and Dark Country in the nomination round – I'm delighted to make the finals.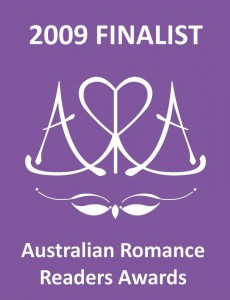 The not-so-great news is that we're having internet connection woes, and will probably be offline for a few days. Our internet box has to be replaced, but they apparently disconnect the old one when the new one is shipped – and it will take probably three days to get here. So, we'll be internetless from any time now, until it arrives. I can connect via my iPhone to check emails and do the basics, but it's tricky to read and write on the small screen, so I'll only be doing urgent things. On the bright side, I hope this will take away some distractions and give me more focus to write!!