Over I went to the Random Number Generator this evening, and asked it for the four winning numbers for my celebration giveaway. It picked: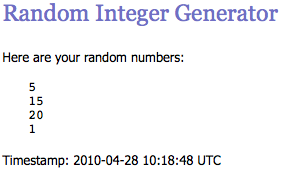 So the two winners, who each win a signed copy of the UK editions of both my books are:
entrant number 5 – Jo Bryan, and
entrant number 15 – Pam Payne
The two runners up, who each win a signed copy of Dark Country, are:
entrant number 20 – Susan Atwood, and
entrant number 1 – Erika Kemp
Congratulations to all four winners – I'll be sending you an email this evening! And thank you to everyone who entered – I'm just sorry I don't have more books to giveaway!