It's my pleasure today to welcome Helene Young to my blog as a guest. Helene is a fellow Australian romantic suspense author, a wonderful person, and her fantastic debut novel, Border Watch, is one of the prizes in this week's Fast Fiction contest here on my blog.
Well-chosen words.
Bron's Fast Fiction got me thinking about the precise placement of words. I'm a writer who tends to produce too many, which then necessitates culling a large number in the editing process. I had fun attempting my 55-word story for Bron's comp, but I spent an inordinate amount of time doing it. Heaven help me if I produced a 90,000-word book in the same manner – I'd have dodgy knees and a wheelie-walker by publication date 🙂
Over the last two weeks I've indulged in a reading frenzy. I've devoured everything, from Lee Childs, to Tara Moss, to Nora Roberts, Linda Howard and on to Katherine Howell. It's been sensory heaven. All the books were crime/suspense genre. All were very different. Tension was paramount. What struck me was the change in sentence length when the action hotted up. Nary an 'and' in sight, minimal adjectives, blunt verbs. The stories rocketed along, dragging the reader with them, not leaving time to breathe.
The arc of the story could be traced by the rhythm of the words. It was an epiphany. In particular, Lee Childs stood out. If I needed any proof that well placed words are powerful he provided it. He summed up his hero, Jack Reacher, in a couple of sentences. I envied every single word. He wrote dialogue that scattered words across the page like Morse code. No tags, no names, but still it was clear who spoke.
I start editing Book 2 this weekend and hopefully some of that sparseness of writing will have rubbed off on me. If not, there's always an editor waiting with a sharpened pencil and a keen eye.
I'd love to hear how you approach editing. What authors influence your writing? Whose well-chosen words stay with you long after you've put the book down?
Thanks, Helene, for these thoughtful words about words! I loved the opening of Border Watch – I remember thinking 'Wow!' as I read the first paragraphs. Readers who haven't yet read Border Watch are in for a treat: there's an excerpt available at Helene's website.
And don't forget that entering the Fast Fiction contest gives you a chance to win it!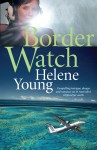 High above the crystal-blue waters of North Queensland, Captain Morgan Pentland patrols the vast Australian coastline. When Customs Agent Rafe Daniels joins her crew, she is immediately suspicious. Why is he boarding her plane when she isn't there? And why is he asking so many questions?
What Morgan doesn't know is that Rafe has her under surveillance. Critical information about their Border Watch operations is being leaked and she is the main suspect. Morgan's ex, elite police officer Carl Wiseman, is back on the scene after she finally found the courage to throw him out. Is he trying to regain Morgan's affections of are his intentions more sinister?
When Morgan and Rafe are shot down in a tragic midair attack, they realise they have to start working together – and quickly. One of Australia's most loved icons is the next target and they have only nine days to stop it. Will they uncover details of the plot in time, or will the tension that is growing between them jeopardise everything?