Finally, my belated post about the Sharjah International Book Fair! It was a fantastic experience, and I'm very grateful to have been invited and to have had the opportunity to visit Sharjah and be part of the Book Fair. (For those of you not familiar with Sharjah, it is one of the United Arab Emirates; the city of Sharjah is right next to Dubai, and the Emirate of Sharjah stretches across the Arab peninsular.)
First up, let me just say that flying business class on Emirates has totally spoiled me for future air travel! It's so much more comfortable than economy class, especially the seats that fold out to become beds. It was great to able to sleep fairly comfortably, and to arrive relatively refreshed even at 7am. Being met at the gate and escorted through Customs, complete with a porter to look after my (heavy) suitcase was also something I could get entirely used to. Oh, and the chauffer-driven car from the airport direct to the hotel…
…where this was the view across the Khalid Lagoon from my room (complete with reflections on my window – sorry):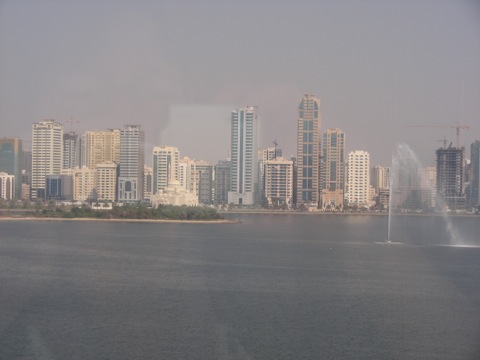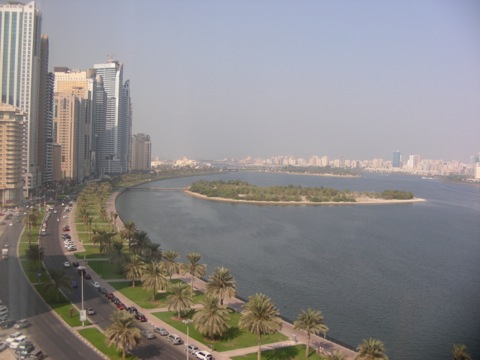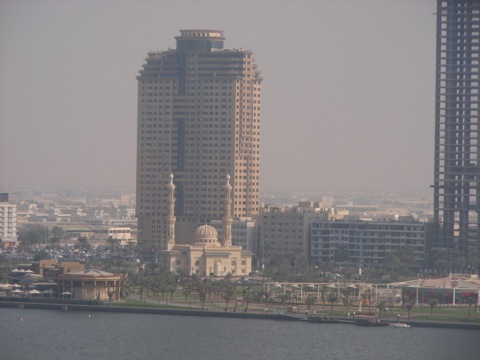 (Note – the haze isn't smog – it's sand, apparently blown across the Arabian Gulf. The air was clearer later in the week.)
That first morning I found fellow Australian Kim Wilkins (who also writes as Kimberley Freeman) and we met up with some of the fantastic team from Midas Public Relations, who are London-based but who organise the author visits for the Book Fair. The lovely Sheerin from Midas (with awe-inspiring organisational skills!), on realising we had most of the day ahead free, arranged a driver to take us to the Blue Souk: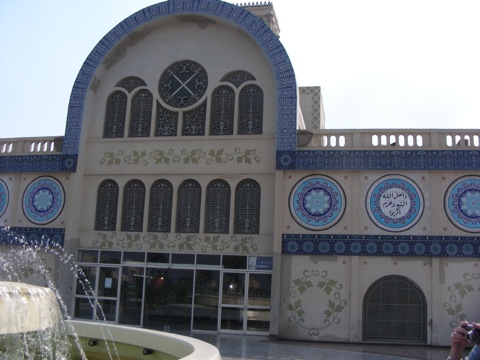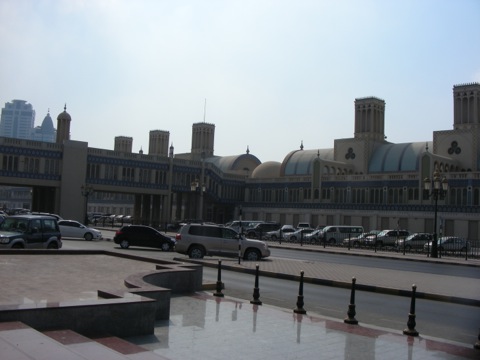 One wing of the Souk has mostly traditional clothes, scarves etc, with a few other shops. The other wing has jewellery – shops and shops full of elaborate gold jewellery! (But we didn't buy any.) Although it's quite modern, the Souk is built in traditional Arabic style. Note the wind towers – pre-air conditioning, these were used to enable hot air to escape, and cooling sea breezes to circulate.
Back to the hotel for an afternoon rest, then it was time to get ready for my first Book Fair event – a panel on Women's Writing and Women's Voices with Kim, and Emirati authors Sahla Ghabish and Sara Al Jarwan. The panel went very well. All the panels had simultaneous translation, with panelists and audience supplied with headsets to tune to either English or Arabic and the translators sitting in a booth at the back, doing a fantastic job. Sahla Ghabish was an excellent moderator of our panel, and the simultaneous translation meant that despite the language differences, we could have a good conversation. The audience started off as mostly men, but a few more women arrived during the panel. Questions came from the men in the audience – I felt they were interested, curious, but supportive and open to listening and learning, so I was very comfortable and happy with how the panel went.
A note here that while Sharjah is one of the more conservative of the Emirates, it is not as conservative as places like Saudi Arabia. Women take an active role in Emirati life; they enjoy freedoms and opportunities as we do in the west, and are senior in government and business. Both women and men dress modestly. Women's writing may not get equal attention there as men's writing does – but it doesn't in Australia, either!
Prior to our panel, we did an interview with a local newspaper journalist about
women's writing, which was a very interesting discussion. The article did appear in the paper, but only in Arabic, and my Arabic is non-existant, other than a couple of words I learned on the trip.
The Book Fair itself is a huge event. Book Fairs are usually about publishers and agents buying and selling bok rights, and SIBF does this during the first 3 days. But it goes for 10 days, and is a significant public event, with hundreds of thousands of people attending. There are publishers and booksellers from around the world, filling the huge Expo Centre with their stalls. Because book distribution and book buying in the Emirates isn't as easy (yet) as in other countries, and because there are many people living in Sharjah and Dubai who are from other countries, the Book Fair is a great opportunity for residents to stock up on books. Some people buy their years' supply of books at the Fair, and it was quite common to see people pushing shopping trolleys loaded to overflowing with books.
The SIBF also features a cultural program, with panels, readings, workshops, and other events running throughout the 10 days. Egypt was the guest country of honour this year, and there were regular dance displays in the evening, winding through the Expo centre. There is also huge support for children's literacy and many events for children and families, including an outdoor theatre with performances of plays.
The guest authors were very well looked after, with a green room at the Expo Centre, meals in one of the hotel restaurants paid for, and opportunities for tours each morning. I went on one – but that day I was the only person who went, so I had a large bus, bus driver and tour guide all to myself. First stop was a visit to a mosque, and a presentation by women from the Department of Culture's cultural education section about Islam and Sharjah culture. As there was only me, it was very relaxed and interesting, and the two women and I had a great discussion. I do know a reasonable amount about Islam, but I learned more. A gentleman demonstrated the call to prayer – it is very beautiful! – and the prayers themselves.
From there we went to the Museum of Islamic Culture, and the guide showed me around it. He was an excellent guide, very well educated, very proud about Islamic/Arabic culture and it's role in the world but also very interested in other places and cultures. I think he was impressed that I was aware of many of the contributions of Arabic culture, in general if not detail, particularly in medicine, science and mathematics. We had enjoyable discussions and I found the museum, and the whole tour, very interesting.
I'd been feeling a little guilty that with all the SIBF was doing for me, they only asked me to do one panel and one school visit during the 5 days, and I expressed this to Sheerin, but she assured me that cultural exchange was a key objective of the book fair. So I hope I held up my end of the exchange, in learning about Sharjah and representing Australia well. And I did learn a great deal, although I'd love to go back some time and learn more.
This post is getting very long, but I must add that I visited the Victoria International School in Sharjah, and that was a great experience, too. I had an audience of about 100 high school students, and after I talked for 10 minutes or so about how I started writing, we opened it up to questions, and they were keen interviewers! All sorts of questions, about writing, about reading, about how much do you earn (!), about writer's block, about ideas…It was fun for me, and I hope the students as well.
Oh, and on my last night, I met up with some knitters that I'd 'met' through Ravelry, the huge online knitting community. We had a lovely evening at a cafe in a shopping mall, knitting, eating, talking – and becoming friends. It was a lovely relaxed way to finish my wonderful Sharjah experience.