Congratulations and many thanks to the Australian Romance Readers Association for last weekend's fantastic convention in Brisbane! I had a wonderful time, catching up with friends, meeting readers, and talking books all weekend 🙂 The Convention committee did an excellent organisational job and everything ran very smoothly for a great time for all delegates.
I was so busy most of the weekend that I didn't remember to take many photos, but lovely reader Jess Fitzpatrick kept her camera in hand and took a fair few, so with her permission I'm 'borrowing' hers!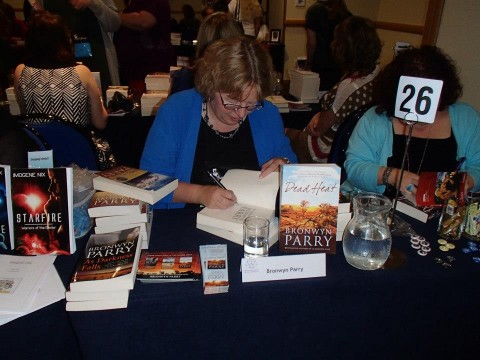 Signing books at the mega-book signing on Saturday afternoon. Behind the number 26 sign – I'd say hiding behind it, but she never hides! – is Paula Roe. Seriously, she's great to sit next to at book signings because she's more organised than me and brings giveaways and chocolates – and of course we have to quality-test some of the chocolates to make sure they're good enough for readers 🙂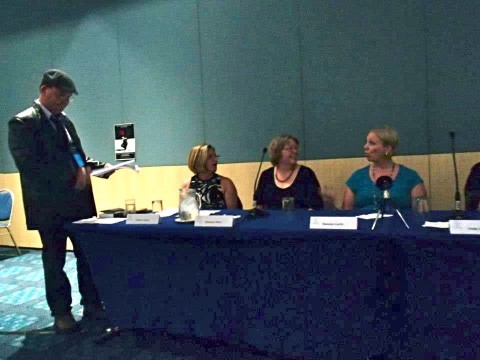 'Detective Sharp' (aka urban fantasy author Dean J Anderson) interviews his some of his suspects Helene Young, me, and Shannon Curtis, in our Romantic Suspense 'Whodunnit?' panel. We had great fun, ad libbing from our basic plan and coming up with wilder and wilder 'clues' for Detective Sharp and the audience to unravel. (But it wasn't me. I didn't do it….)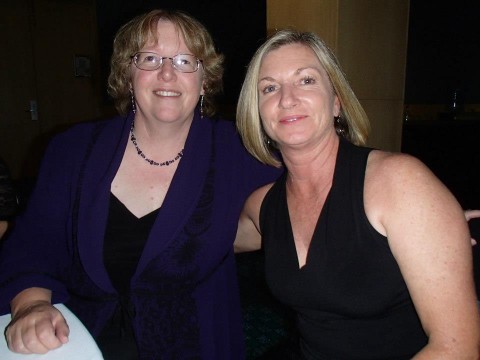 Helene Young and I at the Awards dinner on Saturday night – a great night, even before…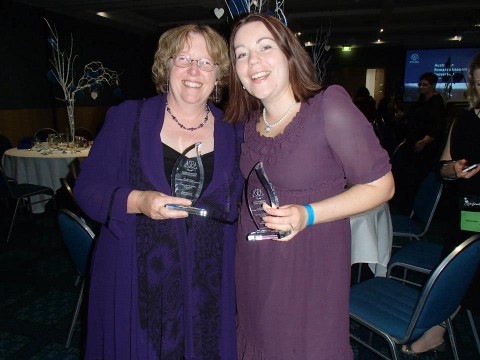 … I was thrilled and honoured when Dead Heat won the ARRA Award for Favourite Romantic Suspense of 2012! Here I am with my lovely award and with Rachael Johns, whose debut novel Jilted won the award for Favourite Contemporary Romance. (And please excuse my blotchy eyes and face… I cried with the emotion and ruined what little make-up I wear!)
Thanks so much to ARRA and all the delegates for a wonderful convention, Jess for her photographs, and all the readers who loved and voted for Dead Heat.
Readers are special – they're why we write! Thanks, Jess and all of you 🙂