Travelling and blogging don't seem to go well together me – and I've been doing a lot of travelling lately! My Mum and I spent all of July and some of August in the UK (with a week at the Romance Writers of America conference in the US in the middle of July for me), and I was barely home long enough to do some washing before I jetted off again last week, this time across the country to Perth for the Romance Writers of Australia conference, and to see G's family there.
Now I'm home again, I've caught up on some sleep, dug the winter woollies out of the wardrobe (-5 Celsius here this morning!), and have a few weeks at home now before I head off to GenreCon in Brisbane in October.
I've downloaded the photos of my UK trip from the camera and will post some soon. Mum and I had a lovely trip, with time in London, the Lakes District, Cornwall, the Isles of Scilly, and rural Buckinghamshire – beautiful landscapes everywhere, and yes, plenty of inspiration for stories! I loved it all, but I think the Isles of Scilly was my favourite place:
More photos soon, I promise! (If the photo above isn't showing up, click on the post title and you should see the full post.)
Now I'm back, my next focus is on the release of Darkening Skies, which will be officially out in Australia on September 10. My wonderful publishers did arrange for the first 30 hot-off-the-press copies to be whisked across to WA for the big booksigning and the bookshop at the Romance Writers of Australia conference, so there are a few copies out and about – and of course I'm now chewing my fingernails, hoping people like it!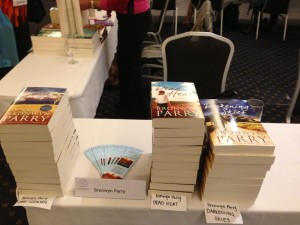 The local launch of Darkening Skies will be on September 14 – I'll post more info soon. And do check back in the next few days for announcements about a giveaway (or two!) and other book release news!