A few people have asked if Storm Clouds will be available in time for Christmas as they'd like to either give it as a gift to a keen reader, or put it on their own Christmas wish list. Unfortunately, it won't be – I'm not even sure I'll get an advance copy in time to give it to my Mum! (Sorry, Mum.)
However, if you'd like to give someone a promise at Christmas that you'll give the book when it's out in January, I have some quality notecards with the cover printed on the front. I can send you one, with Christmas greetings to your giftee signed by me on one side of the inside, leaving the other side blank for you to write your IOU/promise/plans to give the book in January.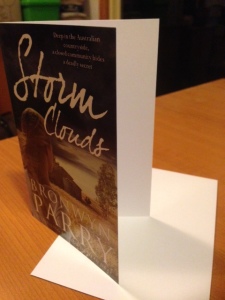 If you'd like me to send you one of these cards, please use the request form below. But as I'm in a rural area, and Christmas mail can sometimes get caught up, please request it by Thursday, 11th December to ensure time to reach you before Christmas.
Please indicate:
Your name
Your address
Who to write the Christmas greeting for
For those who'd like to order a buy a signed copy of Storm Clouds, I will be putting an order form on the website and will be able to send out copies in January when I have received my order from the distributor. However, I can't put the form up yet as I don't know how heavy the book will be, and what it will cost to post. If you'd like to go on a mailing list to be notified when I have those details, please comment on this post. Indicating interest at this stage isn't a commitment, since I can't tell you how much it will be!
I hope to also be able to offer some signed bookplates on adhesive paper, which will be a much cheaper option than me posting books – more info on that soon!
Here's the form to request the notecard – please do submit your request by 11th December to ensure the best chance of it getting to your place by Christmas!