In the mail today, one of the first copies, hot off the printing press . . .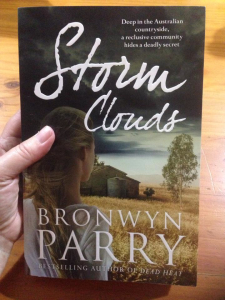 I
It's always a wonderful moment, holding for the first time a book that I've written. Joyful and proud and a little bit scary, too – because it will soon be out in the world, and readers will open the pages, and I just have to hope that what I've written works as a story for them and catches their imagination.
Storm Clouds will be available from 13th January, in Australian and New Zealand bookshops, and through online booksellers. Standby for some more announcements about giveaways, book signings, and other events to celebrate its release!
Meanwhile, we've had a fair few real storm clouds overhead lately, but they've only produced a little desperately-needed rain. Less than an inch, and we're still way under our average annual rainfall, with dams almost dried up and the grass dead and crunchy underfoot. We've even had kangaroos on our veranda, licking up the water spilled when watering our potted plants. Maybe the title of the book will bring us some more rain! We could do with a couple of good summer storms, soaking the ground and sending run-off into the dams.
Wishing you as much rain as the land and wildlife around you needs, and a good book to curl up with while the rain patters down to refresh the landscape.