It's New Year's Day, 2015 – and release month for Storm Clouds! Officially, the release date is January 13th, but copies have already been spotted in (and purchased from!) various Big W stores so the new book is now out there on some shelves. I'll try not to start chewing my nails, waiting to hear how people liked it!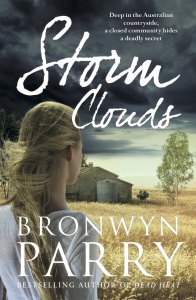 We had a lovely quiet Christmas at home, including Christmas pudding with my Mum here for a brief visit while she was on a tour of the district. Gordon had the days between Christmas and New Year off work, so he's been pottering around. My niece, Lauren, drove up to stay for a few days, and we had a wonderful time together, mostly at home, planing and sewing costumes for the Jane Austen Festival in April. She went home yesterday, G goes back to work tomorrow, and I'll have to get back into the swing of writing, too.
The new year is going to be a full one, and January is already shaping up to have plenty of events. The Armidale launch of Storm Clouds is on January 10th, at Reader's Companion bookshop. Then I'm flying off to Canberra, for a Canberra launch on January 13th at the new Harry Hartog bookshop in Westfield Woden Plaza. I grew up in Canberra, so it will be good to return to the old home town to celebrate a new book! (Plus my Mum won't have to travel far!)
I'm just confirming some other January events, so those of you in northern NSW stay tuned!
After January, there's the Australian Romance Readers Convention in March, and then the Jane Austen Festival in April – both in Canberra. My Mum will get to see me a few times in the next few months 🙂
Wishing you all the very best for 2015 – love, laughter, good health, accomplishments, the company of family and friends, only as many storm clouds as the land around you needs, and plenty of good books to read on rainy days!