Autumn seemed to go by in a flash this year! The highlight for me was the Jane Austen Festival in Canberra in April. Preceded by some serious costume sewing, I went to Canberra with my friend Emily, and my niece Lauren, who lives there, joined us for the three days of the festival. Dance classes, balls, symposium sessions, costume workshops, military demonstrations, promenade and picnic – it was a full weekend and thoroughly enjoyable! Here's the three of us dressed for the Friday evening Georgian night –  me in a dress I made from a vintage embroidered sari, Lauren on the right in a 1750s inspired dress:
We're planning to go again next year and I'm looking forward to making a couple more dresses – once the book I'm writing is finished!
The rest of April and much of May was taken up with a brief hospital visit (no dramas), and then an unrelated illness that knocked me right off my feet for more than three weeks. Not fun – but on the plus side, I did catch up with some reading! I can heartily recommend Jenn J McLeod's new book, Season of Shadow and Light
; D.B. Tait's debut romantic suspense, Cold Deception
; and Helene Young's latest romantic suspense set in far north Queensland, Northern Heat
.
Autumn was a little later than usual, but the street trees in town – chosen for the autumn foliage – put on a stunning display in late April/early May. I snapped this photo outside my doctor's office: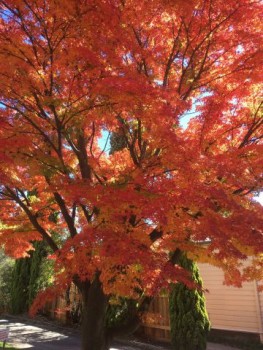 June brought the cooler weather and the onset of winter – up here in the Tablelands that means frosty mornings but mostly dry, sunny days. On the frostiest mornings (minus 5C) I rug up in coat, mittens and hat for my morning walk with our elderly dog,Tansy, but most mornings there's no need for all the layers, once we get moving. The frost is pretty, but once the sun rises over the trees it doesn't last long. Unfortunately, I've never managed to get a decent photo of the thousands of tiny sparkles when the sunlight first hits the frost crystals. One day!
The sunshine and blue skies of our winter are gorgeous – and so is the warmth of our wood stove in the evenings! It's a good season for writing, and that's just as well, as I'm working on my next book and need to get it finished before the end of winter. So now I'm off to write!