This week I'm heading west to Bingara, to be writer in residence for three days at the wonderful Roxy Greek Museum, a part of the historic Roxy Theatre. I'm looking forward to it very much and delighted to be a part of the Stuff of Tales project, a collaboration between the New England Writers Centre, Arts North-West, the Museums Australia NW Chapter and Bauer Media.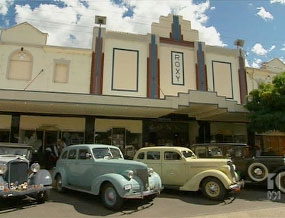 The Roxy Theatre, is in the main street of Bingara, and was built in 1936 by three Greeks, it operated as a cinema until 1958, after which it was closed and lay dormant and untouched for forty years.
But in May 2004, The Roxy was faithfully restored to its original splendour and was re-opened to the public. The theatre embraces some of the most striking original art deco architecture in New South Wales and it still contains the original fixtures and fittings, including the ornate stucco plaster, paintwork and coloured lights from 1936.
The Roxy Museum tells the story of Greek immigration and settlement in the country areas of NSW and Queensland in the first half of the 20th Century. Many cafes and picture theatres during this time were owned by Greek people, and their impact on the social and cultural life of their new country is important to recognise. (Remember Eleni and George Pappas in my Dungirri books? I'm pretty sure they came to Australia later – in the 1950s or 60s – but maybe they came because George already had cousins here 😉 )
Bingara is a lovely small town and I'm sure I'll have a fantastic time there. As well as working on a writing project inspired by an object from the museum, I'll be leading a workshop for high school students, and there will also be a Q&A session about writing for museum volunteers and members of the public. So if you happen to be in Bingara on Wednesday, Thursday and Friday, find me at the Roxy!