Series note: As Darkness Falls is set in a small town called Dungirri, and is chronologically the first book in the loosely-linked Dungirri series. The town and some of the characters in this book appear in future books, but this is a complete story and can stand alone.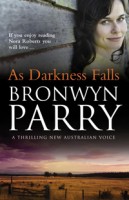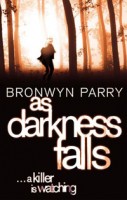 (Hachette Australia September, 2008; Piatkus UK, September 2009; Blanvalet, Germany, Spring 2010)
About the book:
Haunted by her failures, Detective Isabelle O'Connell is recalled to duty by DCI Alec Goddard to investigate the abduction of yet another child from her home town. They have only days to find the girl alive, with few clues, a town full of suspects, and a vast wilderness to search. It soon becomes a game of cat and mouse, with Bella firmly in the killer's sights.
For Bella, this case is already personal; for Alec, his best intentions to keep it purely professional soon dissolve, and his anguish over Bella's safety moves beyond the concern for a colleague.
Their mutual attraction leaves them both vulnerable to their private nightmares – nightmares the killer ruthlessly exploits.
As Darkness Falls was a finalist in the Romance Writers of Australia Romantic Book of the Year Award 2009, in the Romantic Elements category. Prior to publication, the manuscript won the Romance Writers of America 2007 Golden Heart Award, for best unpublished Romantic Suspense.
More information:
Download the first chapter
Reading group questions
ISBN numbers
Australian trade paperback edition: ISBN 13: 9780733623226 ISBN 10: 0733623220
Australian paperback edition: ISBN 13: 9780733624155 ISBN 10: 0733624154
UK paperback edition: ISBN 13: 9780749942922 ISBN 10: 0749942924
Buy it from:
at Booktopia
at amazon.com
at Kobo
at Google Play
Add As Darkness Falls on Goodreads:
Reviews:
"an impressive debut"
The Australian Women's Weekly
"…the portrait of a small community slowly destroying itself is surprisingly powerful. This is a strong debut from an author who could be a future star of Australian romance."
Beau Taylor, Australian Bookseller & Publisher
"Parry's prose flows easily and both the suspense and the sexual tension between Isabelle and Goddard are maintained with poise."
Geraldine O'Brien, Notebook Magazine October 2008.

"This is a fine debut novel from go to whoa, a desperate thriller that also works as a moving love story."
Crime Down Under