Series note: Darkening Skies is my third book in the loosely-linked Dungirri series.The town and some of the characters in this book appeared in the earlier books, and this book does expand on some events briefly referred to in Dark Country but this is a complete story focusing on different characters and crimes, and can be enjoyed without having read the other books.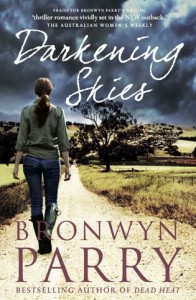 About the book:
Investigative journalist Jenn Barrett never intended to return to Dungirri, the small town she escaped when she was seventeen. But startling revelations about local man Mark Strelitz have reopened the investigation into her cousin's death, and she is determined to find out what really happened.
For eighteen years, a hole in Mark's memory has concealed the facts – that he was the driver of the car in which Paula Barrett died. A corrupt police investigation sent another man to prison, but Mark has now learnt enough of the truth to know he has to set the record straight, even if it destroys his old friendship with Jenn.
As Jenn and Mark start to ask questions around the town, evidence is destroyed and witnesses murdered. Someone wants the past to remain buried and those who are investigating it to be stopped – permanently.
What they discover will shock everyone, but only if they live long enough to reveal it.
Read an excerpt:
Twenty-four hours on a plane followed by a hot, sleepless night, then early-morning hasty packing and almost nine hours on the road from Sydney to Dungirri, and still Jenn Barrett's brain grappled to make sense of yesterday's out-of-the-blue emails and the phone message that played on a continual loop in her mind on the long drive.
'Jenn, it's Mark Strelitz. I hope you get this before you hear it on the news. I need to tell you . . . Gil Gillespie came back to town again last week and I finally had the chance to talk to him about the accident. I still have no memory of it because of the head injury, likely never will. But, Jenn – I was driving, not Gil. I have to set the record straight and make sure the investigation is reopened.'
Memories and emotions she'd long ago buried crawled out of their graves and whirled around the stunning fact of Mark's revelation: he had been driving when her cousin Paula was killed eighteen years ago. Mark, not Gil Gillespie.
Mark, whose friendship had been the one steady rock in her adolescence. Whose affection she'd eventually rejected. Who had been one of the reasons she'd caught the bus out of Dungirri at seventeen, the day after Paula's funeral.
So much for her vow, back then, never to return.
The gravel road wound through the last kilometre of the thick, dry, Dungirri scrub, and the old familiar tension coiled around her spine as she crossed the low wooden bridge over the creek and into the town.
A willy-willy stirred up dust and dead leaves and swirled across the road ahead of her. Dust and death. They still clung to Dungirri, the terminal illness of economic and social decay evident in boarded-up shop windows, long-empty houses and scarcely a soul in evidence, the main street almost as dead as the cemetery she'd just passed.
Why the hell had she agreed to come back to this godforsaken hole?
Buy Darkening Skies
at Booktopia
at amazon.com
at Kobo
at Google Play
Add Darkening Skies on Goodreads: