Series note: Dead Heat was written as a stand alone book, and set in national parks around a community called Goodabri. Two later books, Storm Clouds and Sunset Shadows, are set in the same area and have some loose links to Dead Heat, but you can enjoy Dead Heat on its own.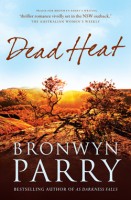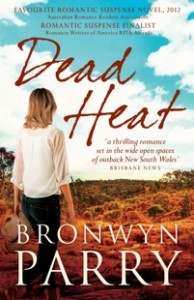 About the book:
National Parks Ranger Jo Lockwood is often alone in the wilderness, and she likes it that way – until she discovers the body of a man, brutally murdered.
Detective Nick Matheson's new posting to the north-west of New South Wales is supposed to be an uneventful return to normal duties and a normal life. He knows organised crime from the inside out and suspects that the victim in the camping ground is not an isolated murder.
Jo is committed to helping the investigation but she has seen the killer's face and now she's at risk. Nick's determined to protect her but as the body count starts mounting, his past and present collide, threatening the people he cares about most.
Trapped in rugged country in scorching summer heat, pursued by hunters who can't afford to fail, Nick and Jo will need to trust each other completely, and use all their skills and knowledge in order to survive.
Read an excerpt:
Download the first chapter (.pdf file)
Buy Dead Heat
at Booktopia
at Dymocks
at Amazon

at Kobo
at Google Play
Add Dead Heat on Goodreads: