Echoes of Daniel is a 5-minute romantic suspense, first published in Woman's Day magazine in 2010. It's just 1500 action-packed words, the perfect length to enjoy with a cup of coffee or tea – or a glass of wine!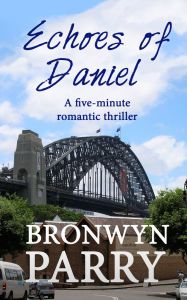 You can download an ebook of Echoes of Daniel for free from Smashwords, or you can use the links below. Note: you'll need to right-click on the relevant link below and select 'Save file' or 'Save link as' to download it to your computer:
* for Kindle (.mobi file)
* for other ereaders and apps (.epub file)
* as a PDF file for reading on a computer or printing.
I hope you enjoy it!